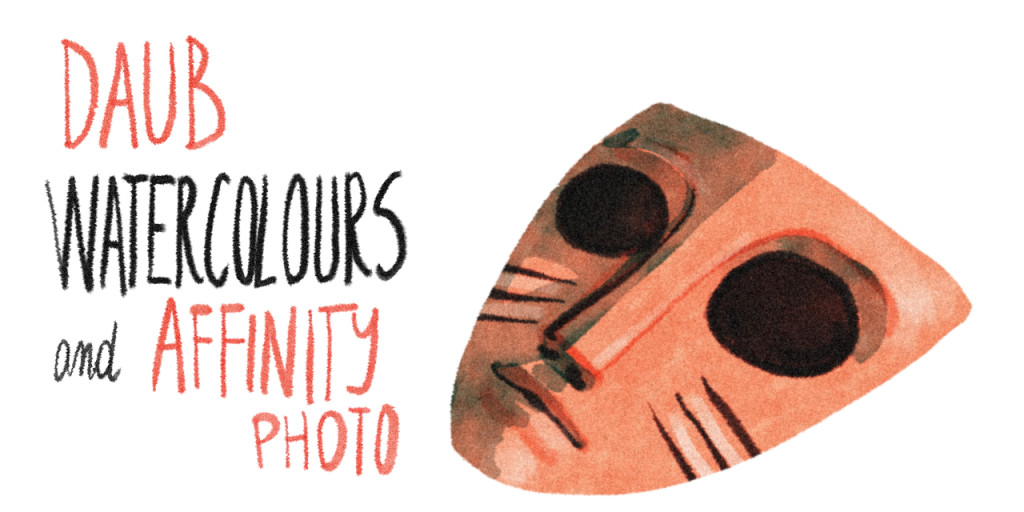 This quick tutorial will help to obtain a more realistic look and feel using DAUB Watercolours bundled with Affinity Photo.
For this tutorial Affinity Photo 1.4 is needed.
WATERCOLOURS IN DIGITAL MEDIA
When I talk about Digital watercolours it is pretty important the way these tools respond to interaction (pressure, velocity, etc…) and not only the final look. In terms of user experience the very best can be reached with a physic watercolour model.
Painter, Artrage, Rebelle and LivePaint offer today the state of art for this technique, but all these tools lack of flexibility and are high demanding in terms of hardware requirements for professional work.
Using "biased" painting engines like MangaStudio, Affinity or Photoshop make things harder, but flexibility and performances are with us.
A BIT OF EMPIRIC OBSERVATIONS
I designed this set almost one year ago when AP was still in alpha version, using fractal algorithms to create "almost-seamless" textures and hi-res captures for nibs. Even if the final look is catchy, there are some behaviours that cannot be reproduced currently with painting engine itself.
In particular the scattered absorption of paper, due to capillarity of fibres is one of the most difficult thing to reproduce.
A second point to be considered is saturation and contrast: pigments' distribution is not linear and this affect colours too.
This effect is easier described as wet edge, but in real life is not only a matter of opacity, colours on edges are more saturated too.
Let's try to improve all these aspects.
LIVE FILTERS
The technique I'm going show is almost the same I described years ago for Manga Studio, but boosted by the Live Filters available in AP.
These filters are non-destructive and are "live", as their name suggests. We can keep on painting and see anything in real time without particular loss of performance.
This is one of the brushes available in the DAUB Watercolours set: the first stroke is done in a simple layer, the second one is in a layer containing a stack of live filters.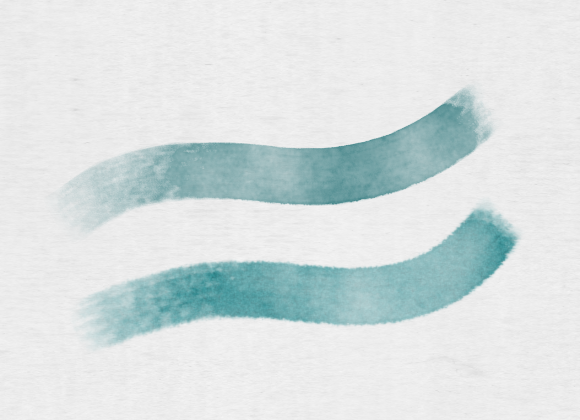 Even if both look fine, you can notice the second one looks much more "absorbed" into the paper texture.
In particular the wet edge is more pronounced an less "digital".
HOW TO DO IT
Video editors and Visual FX designers will find this way to work very familiar: AP works natively as a compositing tool such as After Effect or Nuke.
You can add a stack of filters, corrections, masks and drag their position/blending using the outstanding Layers Studio.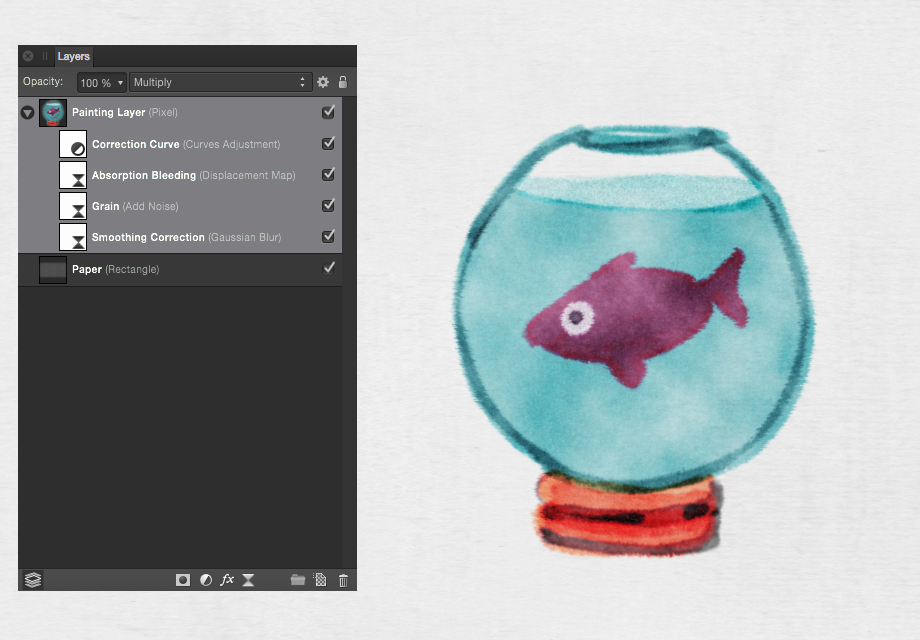 In Layer Studio we have a Painting Layer with blend mode set to multiply to show Paper layer.
The painting layer includes (from top to bottom):
Correction Curve
A live correction filter which helps to have a stronger contrast and balance the linearity of digital painting.
Absorption Bleeding
The most powerful filter here, designated to reproduce paper absorption/bleeding thanks live Displacement Map.
Let's spend some more words on this wonderful piece of code.
Displacement does a very simple thing: uses the luminosity levels of a picture and "distorts" the pixel layer to follow its map. So "water" will flow across paper fibers, as with real media and boom…. We are done!
You can decide to map it to a picture layer or use an external file.
In this case I mapped it to the paper layer.
You can turn it off in any time and furthermore it is independent from the paper layer that can be hidden if you don't need to export it.
Grain
A simple Gaussian monochromatic Noise set to strenghten paper roughness.
Smoothing correction
A slight Gaussian Blur used to have a more smooth result, it delivers a wetness feeling, just choose the value you prefer or turn it off (edges will look very crispy).
CONCLUSIONS
It makes no sense to spend words anymore here and obviously this technique is valid for any brush.
This is the afphoto file with settings embedded.
Please notice that it will work with Latest AP only
For further questions just ask!
Go and play with it!