The natural media software without ERASER!
by Fauve Software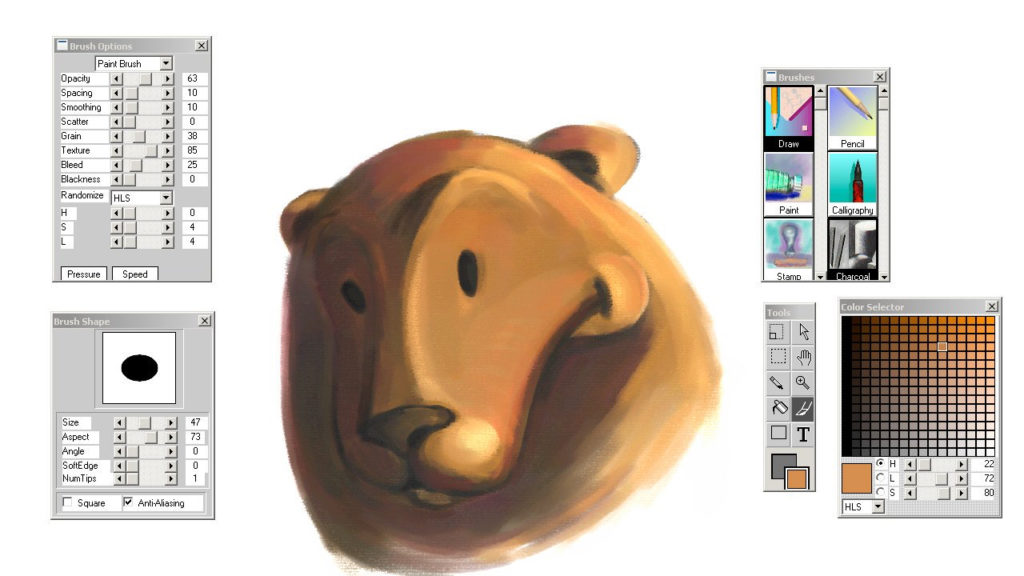 I want to share the little story behind this application I discovered in 1996.
The year before, after about one month of summer work, I decided to burn out part of earned money in a Wacom ArtPad II, my very first graphic tablet.
Printed on the back of the package there was a tiny picture showing a Program Manager folder (Win 3.11) with the icons of various common graphic applications: Photoshop, Photostyler etc… But was the Fauve Matisse icon to spot my curiosity.

The research started and after a couple of weeks I found a free copy, called Matisse in Gray, fully featured but only able to manage 256 grays pictures… Not too much but a good start point to try this program freely.
Matisse was written by Fred and Richard Krueger, founders of Fauve Sofware.
I literally fall in love with it, and still miss its features.
Matisse was a digital painting app, dedicated to illustrators and graphic designers, with lots of advanced features for the digital age it was published.
First of all, was no hardware demanding at all, and worked fine with 8MB of RAM and a basic Intel Pentium 100. It obviously supported pressure sensitive tablets. Fred and Richard where among the very firsts pioneers of the concept of layers, as is globally conceived today.
Within Matisse you can select the entire canvas and lift it up as a new "object" mantaining alpha properties and allowing few blending modes.
The UI approach of such a innovative feature in 1993 was quit weird, but totally forgivable.
The rest to the UI was minimalistic, clean and easy to use. No numeric input but only sliders for tool settings an a curious lack of eraser tool (!). Not really necessary indeed…
The gem of Matisse was in its brush engine: smooth, precise and crispy ink strokes, beautiful blending features and global responsiveness, all features that other giants still lack. For some aspects it was quite on par with a first class player as Fractal Design Painter, with the advantage of not requiring a super computer.
The Paint Brush tool can be tweaked to reach a good realism in media simulation, allowing to manage color bleeding, texture and grain, bristle tips and so on…
Opacity and Size linkable to pen pressure, and other parameters to speed, but the most impressive setting is the Smoothing slider.
This was also a sort of "prophetic feature", allowing to delay blush stroke in order to achieve a more accurate roundness. This interpolation used at low values it was great to remove the "polygonal look" of circular strokes.
Pushing the value to 100 the behaviour is similar to the one we find in Sketchbook Pro (Lazy Brush), SAI Paint Tool and Clip Studio Paint/Mangastudio  (Stroke Stabilization) or via daemons as Lazy Nezumi.
Matisse's code was sold to Macromedia, which discontinued Matisse keeping only xRes (the other app from Fauve Software) alive and porting a part of this brush engine to Fireworks.